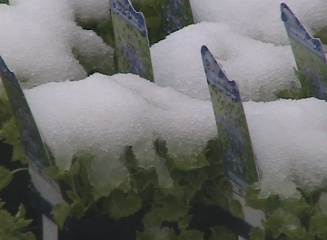 By Jamie Stover, Barbour, Doddridge, Randolph and Ritchie County Reporter
ELKINS -
The mild winter and early spring didn't just trick humans. Even the flowers were fooled this year, blooming earlier than expected.
Unfortunately, they may have bloomed too early as winter-like weather conditions rolled in Monday morning.
"Some can take more cold than others. But for the ones that are really tender about the only thing you can really do is to cover them," said Larry Gouer, a certified Horticulturist.
Gouer suggests using a blanket or piece of cloth to cover your flowers if they are already soiled.
"It is better to use a cloth, sheet or blanket," Gouer said. "Some type of a material. I never recommend using plastic."
For potted plants, he suggests bringing them indoors.
"Better to put them in a garage or a shed or something versus bringing them into the house," Gouer said.
It's not just flowers you have to be careful with, trees can be at risk too.
"It's accumulating on a lot of the ornamental trees," Gouer said. "That wet, heavy snow adds a lot of weight and there's a greater potential for breakage."
He suggests lightly shaking off the snow.
He does not promote covering plants with blankets if more snow is expected because it can cause the snow to accumulate even more so on the plants.
He said snow can sometimes serve as an insulator.
"If it snows, some of the plants that are sturdier–the snow covering the plants will actually kind of act as an insulation barrier from the cold," Gouer said.
He said it can be a tough call to make when deciding if it's better to cover the plants or wipe off the snow.
"You just need to use common sense," Gouer said. "If you look out and say  'well, the snow is bending some of my plants out there and I'm afraid the snow is going to bend them' about the only thing you can do is lightly shake off the snow."
Goer said never underestimate Mother Nature, even when it seems like winter is finally over.
Clarksburg area residents shouldn't plant until early to mid May and residents of the Randolph County area should wait until late May.
He said it's rare, but not impossible, for a freeze kill to occur even in June.
If you'd like to share your planting tips, stories, or pictures of your snow-covered garden check out WBOY 12 News and Jamie Stover on Facebook.